The Marrow theology emphasized that salvation is accomplished through grace. Passages such as Romans 5:6-8 underlined this. For when and how did God show his grace to us? Were there conditions to be met in us prior to Christ's grace? Clearly not, since it was:

While we were still weak, at the right time Christ died for the ungodly.
While we were still sinners, Christ died for us.
While we were enemies we were reconciled to God by the death of his Son.

What conditions were met in us in order for God to send his only Son into the world to die for sinners? None. Indeed there can be none. This is what Boston found valuable in the expression "Christ is dead for you." For Boston this meant: "I do not offer Christ to you on the grounds that you have repented. Indeed I offer him to men and women who are dead in their trespasses and sins. This gospel offer of Jesus Christ himself is for you, whoever and whatever you are."

One of the dangers Boston recognized was that conditionalism feeds back into how we view God himself. It introduces a layer of distortion into his character. For it is possible to see that no conditions for grace can be met by us yet still to hold to a subtle conditionality in God's grace in itself.

This comes to expression when the gospel is preached in these terms: "God loves you because Christ died for you!"

How do these words distort the gospel? They imply that the death of Christ is the reason for the love of God for me.

– Sinclair Ferguson // The Whole Christ: Legalism, Antinomianism, and Gospel Assurance—Why the Marrow Controversy Still Matters by Sinclair B. Ferguson. Published by Crossway.
Quote Graphic To Share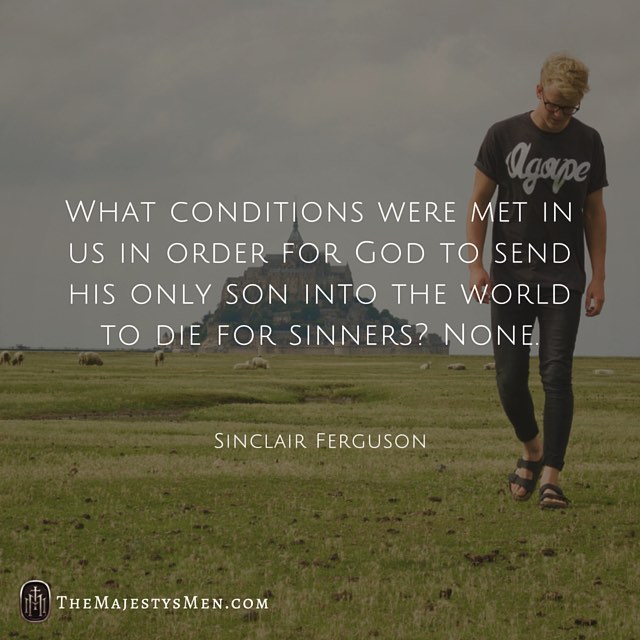 ---
Please feel free to share this quote and use these images on social media. By doing so, you help us spread gospel-centered wisdom as well as the word about this website, community, and our efforts. We appreciate your support, and most of all, your hunger for Godly wisdom! Keep it up!