"One of the great uses of Twitter and Facebook will be to prove at the last day that prayerlessness was not from lack of time." – John Piper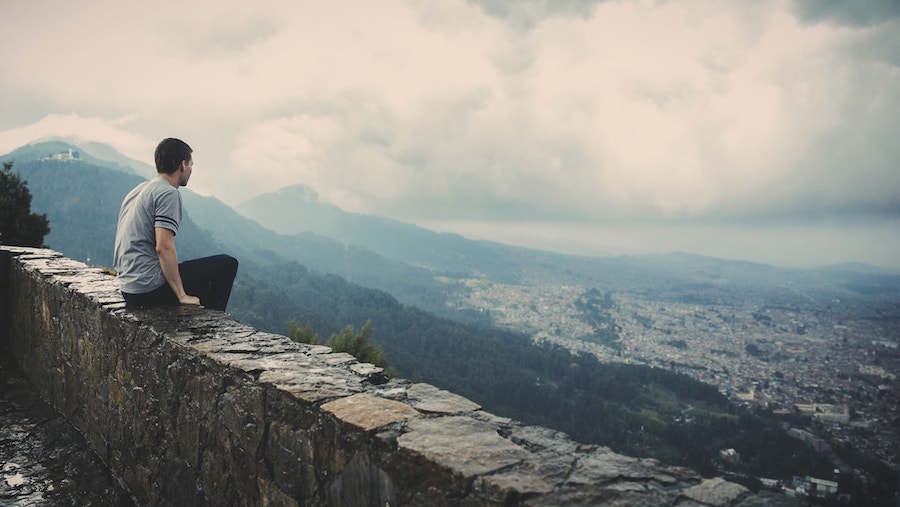 Over the past couple weeks we have been discussing some practical reasons that we allow our minds to slip into worldliness (here is the index). I'd like to welcome back all who have been following this series as well as those who are just now joining in the discussion!
Last week was an examination of our morning routine and how spiritually mature decision making will dramatically affect the remainder of the day. This week we move on to the next portion of the series, and we'll be talking about our susceptibility to worldliness through abuse of social media.
2.) Social Media and TV
We hear about these types of blog posts all the time and rightfully so. We don't use our phones, laptops, and tv's as we ought. This is something that can't be preached on enough.
Unfortunately, the severity of this issue of idolatry is often blurred when it is commonly spoken of as something we should use as a theme for fasting or temporary distancing when it gets to be "just too much".
The reality is that every single day it can be too much.
Don't hear me wrong, I do think it's a great thing to "fast" from our phones and social media from time to time and it can be very fruitful, but this is an infinitely deeper problem. What good does it do if we fast from these things if, when we aren't fasting, we're still blatantly abusing them and wasting our lives away?
The amount of time we spend on social media is an issue, but so are the motives we have for even paying attention to it in the first place.
We abuse gifts of God which could be great resources. Twitter, Facebook, Instagram, the internet, and TV shows all have the easy potential to inject what is repulsive to God into our thoughts.
Ask Yourself "Why?" and "How?"
Why and how does it benefit me as a Christian to spend much of my time on Facebook mindlessly scrolling through pages of posts, pictures, and videos that in no way honor or glorify the God we claim to love?
Does this bear good fruit in my life or does it just grieve the Spirit within me and prevent any growth? (Ephesians 4:30.)
In what way can I justify the fact that I find pleasure in passions which directly taunt the character and beauty of my Savior?
We need to stop running from the real problem here: us!
What we find most interesting is going to be what we spend most of our time in. So when the bible is consistently collecting dust and our phones are glued to our hands we need to stop acting as if this following statement isn't true for us:
We Think God Is Boring.
He isn't. He can't be.
Yet we do feel this way. The joy that it brings us to spend hours each day with our minds plugged into the worthless things in life directly influences and hinders the health of our relationship with Christ.
Some of us can hardly sit through a sermon or focus in prayer without thinking about our phones, what's new on Instagram, or what movie we'll watch later. It truly is a sickness and a disease. A disease, among many, for which Christ suffered the unfathomable wrath of God on behalf of His adulterous bride.
We need to re-evaluate the ways that we allow the world to be poured into our minds through social media.
Christ can be honored through what we say and share online, but we need to be disciplined in our approach to doing so. We don't need to share an article about Romans 8:26 on Facebook and then spend an additional thirty minutes logged in just killing time by browsing through what everybody else is doing, or not doing, with their day.
Good questions to ask are things like:
Who do I follow on social media and why?
How much is my appetite for the Word and prayer affected by what I do with my phone or laptop?
How is my family affected by what I choose to share with them from the internet?
Does it potentially influence the Spirits' work of sanctification in their life? Create a stumbling block?
Evaluate these things. Guard your mind and cut out the aspects of your daily life that you know are causing you to love the world.
Meet with your elders, your pastor, small group leader, parents, friends, or whoever can help to keep you accountable.
Determine what things need to stop or what can be tweaked.
There are a lot of different examples of things that are obviously harmful to us such as language, sexual immorality, violence, and the overall morality of the content. This article isn't meant to dissect each one of these things in finer detail, but we need to pray about them ourselves and with those who are keeping us accountable to discern right from wrong.
Remember that,
"God is at work in the mess." – Matt Chandler
God is superior to everything in our life. Everything.
Let us use these resources of easy media in a way which reflects these beliefs.
Please feel free to share your own ideas on this in the comments section below and discuss them with your family & friends. Be sure to join us again next week as we continue this series and take a closer look at how our friendships affect our view of the world. Blessings!