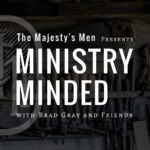 Episode 15 of "Ministry Minded" features Gerald White
In today's episode, Gerald White joins the show to talk with Brad about the gospel and the call of God. How do you know this is will of God? Is He really calling me to leave this church? Gerald provides some excellent insight on this as well as what it means to have "broken reconciliation." We also talk about our mutual love for the life and ministry of Charles Spurgeon and his continued influence on pastors of all ages.
Gerald is the assistant pastor of Emmanuel Evangelical Free Church in Farnham, in the United Kingdom, where he lives and serves with his wife Morna and their two sons, Noah and James. Gerald is a gifted preacher and resolute studier of the Word. He blogs for The Majesty's Men at The Gospel Plant, where you can find his latest sermons and devotional thoughts as he seeks to lead others to know Jesus and the radical Gospel of grace for mess-ups. Be sure to follow him on Twitter, @geraldwhite_.
Recommendations
Lectures to My Students, C. H. Spurgeon
George Whitefield's Journals, George Whitefield
The Imperfect Pastor: Discovering Joy in Our Limitations through a Daily Apprenticeship with Jesus, Zack Eswine
A Body of Divinity, Thomas Watson
Thoughts for Young Men, J. C. Ryle
Apples of Gold, Thomas Brooks
The 1689 Baptist Confession of Faith
Grace: So Much More Than You Know & So Much Better Than You Think, Brad J. Gray
Credits
Thanks to Ryan Northfield for engineering and editing this episode. Be sure to consider him if you're thinking about any sort of audio production.
Connect
Be sure to follow us on Twitter and/or subscribe via iTunes to get the the latest episodes as they're released. You can also sign up with your email in the box to the right to get the newest shows right in your inbox.
Thanks for listening, commenting, subscribing!