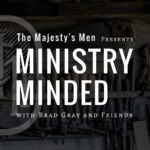 Episode 14 of "Ministry Minded" features pastor Dan Price
In this week's episode, Dan Price joins the show to talk with Brad about the gospel and the Christian faith, and how we've misconstrued both. Dan reminds us that the message of Jesus is the message that He's holds fast to you even when you don't hold fast to Him. He also posits the question, "What if we preached to everyone as if they're dying?"
Dan is the lead pastor of Trinity Church NWA in Bentonville, AR. Besides being a full time pastor, though, Dan's also busy running the widely-read Christ Hold Fast website, co-hosting the "40 Minutes in the Old Testament" and "30 Minutes in the New Testament" podcasts, and planning numerous events and conferences for the Christ Hold Fast collective. He's also the author of the forthcoming book, Scandalous Stories: A Sort of Commentary on Parables. Be sure to read his stuff on the CHF site and follow him on Twitter, @danemeryprice.
Recommendations
Home: How Heaven and the New Earth Satisfy Our Deepest Longings, Elyse Fitzpatrick
The Self-Donation of God: A Contemporary Lutheran approach to Christ and His Benefits, Jack Kilcrease
Commentary on Galatians, Martin Luther
Mere Christianity, C. S. Lewis
The Genius of Luther's Theology: A Wittenberg Way of Thinking for the Contemporary Church, Robert Kolb
On the Freedom of a Christian, Martin Luther
The Spirituality of the Cross, Gene Edward Veith
On Being a Theologian of the Cross: Reflections on Luther's Heidelberg Disputation, Gerhard Forde
Where God Meets Man, Gerhard Forde
Grace: So Much More Than You Know & So Much Better Than You Think, Brad J. Gray
Credits
Kudos to Ryan Northfield for engineering and editing this episode. He's the man! If you're thinking about any sort of audio production, this is your guy.
Connect
Be sure to follow us on Twitter and/or subscribe via iTunes to get the the latest episodes as they're released. You can also sign up with your email in the box to the right to get the newest shows right in your inbox.
Thanks for listening, commenting, subscribing!