[su_note note_color="#eeeeee" text_color="#330011″ radius="2″]Riley, an editor, here! Though this is obviously posted from the "Admin" account, I am writing very "first-personaly" (yep, now a word) because I believe this will be most helpful with these posts. They may not all be written by me in the future, but the goal will always be to be very personable and approachable with these as we develop.[/su_note]
I feel we're on the brink of some really, really cool developments as a community!
It's an awesome and powerful thing to see young men of God band together in a place to encourage and equip one another, and to share the hope of the gospel of Jesus that we know and love. I've seen it in the past when I lead a "in-real-life" collegiate men's ministry and I continue to see the power of this through this website and community. It's crazy exciting!
The guys involved know that we continually speak "behind the scenes", as I call it, and stay up to date with each other. Also, nearly each month I record a "Contributors Update" video that recaps the recent developments on the site, with the community, and usually states a few plans for the future.
However, as we continue to grow and develop it's become apparent that we're going to be able to take on multiple more "sub-missions" within our general mission as a community (read about that on the About page), allowing guys to contribute how, when, and where they best fit!
That's pretty much mind-blowingly cool to me! 
The problem though, is that this makes it really difficult to succinctly state what we do as a site and community and to let new folks know what we're doing around here.
Sure, we state our mission in general, but it's become apparent we needed a way to talk more thoroughly about "why", "what" and "how" we're specifically focusing our efforts so that others can understand and, hopefully, decide to join with us!
Announcing "TMM Mission Briefings" (aka #MissionBriefings)!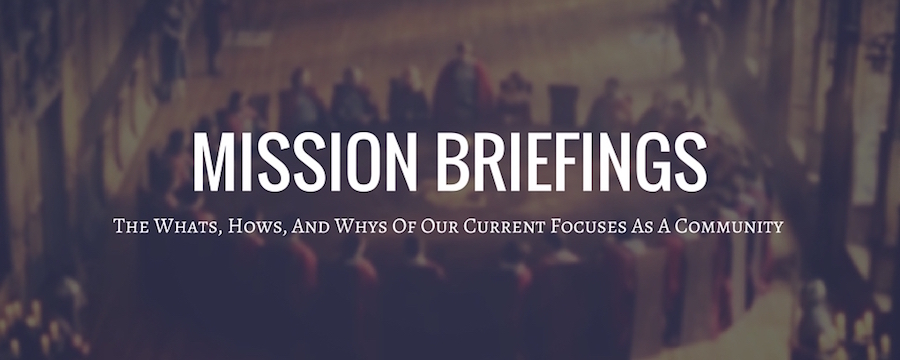 These will be periodical (read: "not very often and only when necessary") updates that will be posted in our blog stream for anyone to read.
These are primarily for the front-facing, more public viewers, and especially the new guys (or gals) who are just coming across us or have maybe been considering joining up with us for a while.
This also fits with our values of utmost transparency as well as equipping others by publicly speaking about what and how this all develops around here (read more about our values on the About page).
So if you're an active contributor around here already, much of these will be repeat for you. Still, everyone is invited to chime in with any comments, suggestions, and constructive criticisms in the comments below!
Also, share it with someone you think would want to jump in a be a part of what we're doing here!
---
The Current Mission Focuses – Oct 30, 2015
---
Let me first say that just because these are our "focuses" it doesn't mean it's all we're doing or that you must be all-in on these to be valued and involved here (plus, we're always open to suggestions).
So without further ado, here's the "whats, hows, and whys" with our current focuses (in no particular order):
As always, we're seeking to engage each other in faith based discussion relevant to our current society, culture, issues, struggles, victories, etc. So our greatest focus is to publish content through our blog from any young man who wants to jump in, and to engage each other as we do this.
We're looking for more voices, views, and stories and looking to reach more brothers, so we're engaging guys on social media and spreading the word while making it easier to jump in and get going here with us!
We want to empower and equip young Godly men to publish and produce great content, in an culturally attractive and easy way. So we're continually focused on building out and "beautifying" this site and it's functionalities. We make tweaks and [hopefully] improvements each week!
We're working on forming a "staff" of guys who will commit to overseeing certain aspects of the site in a dependable way, and streamlining and speeding the production of things and the coaching of guys. We're primarily seeking out another editor or two and a graphic designer or two. Know anyone who would rock this?
We hope to always be a peer-to-peer mentoring community for young men, but we want to also become a trusted resource for elder mentorship as well. In our ongoing effort to achieve this, we are doing two things currently:

We are beginning to build out a way for guys to freely download and read writings from great men of history – be it e-books, sermons, etc. If you have any suggestion for "old dead wise guys" that are free from copyright, please let us know!
We are working on creating an organized way that older men can contribute to the blog and content around here. We've had many requests, and we thing we have it figured out how to go about this now. Please stay tuned! If you know an older man who'd love to share some wisdom with young men, please let us know!

We are also giving a great deal of focus to generating some revenue to support the site and the many guys involved with it. To do this, we are looking for great partnerships for products to feature in our shop as well as working with a few people to develop some of our own products. If you know of anyone who would want to partner with us in this, please let us know!
Hopefully this update shines some light on the many fronts we're focusing our energy and time on right now as well as the potential for what we can accomplish together.
It's a lot to do, but it's a ton of fun doing it! I hope you're involved!