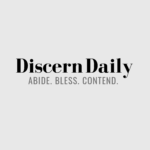 Discern Daily
Ep. 6 – Christianity Is Bigger Than a Political Party
Many associate with a particular political party in order to communicate their convictions and beliefs. Christians, however, should communicate their beliefs using a different method.
On this episode, we walked through some thought-provoking truths from Jeff Christopherson's article for Christianity Today, titled, "When Conservatism Isn't Enough."
Top Quotes from Jeff's Article
"The sociological, political, and cultural realities of our day have pushed trees over the path — they've marred our ability to walk the same way. And, they make it futile to try to walk that path anyway. Of course, we could climb over broken limbs and under hanging branches, but the journey would be slow, cumbersome, and unhelpful. Better to create a new path to the same, inalterable destination."
"As I look at the challenges facing the church, I'm increasingly skeptical that our well-worn categories of liberalism and conservatism are a helpful distinction to describe faithfulness to Christ."
"We must dive deeply into our disciple making assignment and undertake a change in regime by winning hearts and minds with a sincere belief in the preeminence of our good news over the power of a political force."
"The white-knuckled instinct of clutching to yesterday's forms is not an instinct propelled by a Great Shepherd searching for his lost sheep. It's a darker instinct motivated by safe and selfish sheep, deaf to the frantic bleating of their neighbors."
View Jeff Christopherson's full article here.
Highlights of the Episode
We cannot keep doing the same thing and expect different results.
Jeff's article for Christianity Today left me hanging a bit. Should we dive into what conservatism truly means or put it aside altogether?
Some strive to educate people on what certain words mean while others avoid certain words altogether based upon how some will respond to those words.
Be open to new strategies for reaching the lost because if what has existed or been tried in the past hasn't reached them,  it probably won't work during a second attempt.
Discipleship involves meeting people where they're at, not forcing others to meet you where you're at.
Where do you have traction? What discipleship tactics are working for you? Stick with it and fuel it with Scripture.
Many associate themselves with a particular political party to communicate their views and beliefs. Christians should rely upon personal discipleship to communicate their convictions and beliefs.
If we are going to reach people with the gospel, it's not going to be on a political level but a relational one.
Let's Seek the Truth
What do you think about the article and its content? Have you discovered what works for you in your discipleship efforts? Share this episode. Share your thoughts in the comments below.