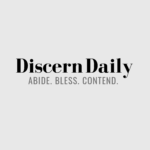 Discern Daily
Ep. 37 – Keeping Christ in Mind
In order to follow Jesus' example, and live sacrificially, we must keep Christ at the forefront of our mind. If we don't keep Christ in mind, it's easy to forget about the mission and focus on selfish goals. On this episode we looked at a great, thought-provoking tweet by Dustin Benge (@DustinBenge).
Dustin Benge's Tweet
Self-promotion creates platforms.

Self-denial creates ministries.

— Dustin Benge (@DustinBenge) August 11, 2020 
View Dustin's original post on Twitter here.