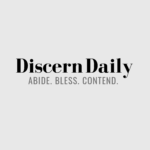 Discern Daily
Ep. 31 – Suffering Deepens Our Relationship With Christ
Some good can come from our suffering. This is the topic we discussed today while highlighting an article by Sean McDowell, titled, "10 Biblical Reasons God Allows Suffering." Join the discussion!
Quotes From Sean McDowell
"Believers suffer so they can know Christ more fully (Philippians 3:10)."
View Sean McDowell's full article on his blog here.
Episode Highlights
Reminder: Discern Daily doesn't exist to tell viewers what to think or believe. Instead, every episode exists to encourage listeners to think well for themselves and practice discernment each day.
"Indeed, I count everything as loss because of the surpassing worth of knowing Christ Jesus my Lord. For his sake I have suffered the loss of all things and count them as rubbish, in order that I may gain Christ and be found in him, not having a righteousness of my own that comes from the law, but that which comes through faith in Christ, the righteousness from God that depends on faith — that I may know him and the power of his resurrection, and may share his sufferings, becoming like him in his death, that by any means possible I may attain the resurrection from the dead" (Philippians 3:8-11).
Are we too caught up in working for more ways to become more comfortable on earth? Are we seeking to know Christ more? What are we working towards?
If we got the opportunity to suffer for Christ today, how would we respond?
What must we do to get in the right mindset here to be willing to joyfully suffer for Christ?
Share Your Thoughts
Take a look at Sean McDowell's article. We only touched on one of his ten points! Feel free to share any thoughts with us and help share this episode on social if you found it useful.