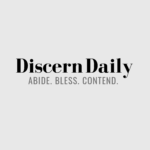 Discern Daily
Ep. 3 – God's Will for Marriage and Divorce
Looking around, it's evident that we need to have a conversation about marriage and divorce. The Church needs to be sharpened in this area in order to preserve God's design and remain in God's will.
Now, many resources exist to exegetically reveal God's view of marriage. The intention of this episode is to get a conversation started and look at a few important truths together.
Tim Challies composed an excellent article on the subject of marriage and divorce, titled, "10 Common but Illegitimate Reasons to Divorce." View Tim Challies' full article here. Let's run through parts the article and begin seeking the truth.
Highlights
Marriage is a big deal. It's about more than just relationships. It involves understanding and portraying the gospel of Jesus Christ.
God created marriage. He has provided guidelines and instructions to follow regarding marriage and divorce. We have no other option besides following God's Word.
Are there any biblical grounds for divorce whatsoever? Yes.
"It was also said, 'Whoever divorces his wife, let him give her a certificate of divorce.' But I say to you that everyone who divorces his wife, except on the ground of sexual immorality, makes her commit adultery, and whoever marries a divorced woman commits adultery" (Matthew 5:31–32, ESV).
"To the married I give this charge (not I, but the Lord): the wife should not separate from her husband (but if she does, she should remain unmarried or else be reconciled to her husband), and the husband should not divorce his wife" (1 Corinthians 7:10–11, ESV).
People have their own opinions about relationships and marriage, but God's Word trumps every opinion. What has God revealed in Scripture? That's the question.
Share Your Thoughts
What do you think about the topic? What are your biblical convictions on the matter? Can you think of any common but illegitimate reasons to divorce that we didn't cover? What about abusive situations? Let's chat and seek the truth.