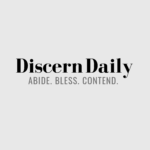 Discern Daily
Ep. 12 – Wasting Your Life on Social Media
Social media isn't something only the kids are using these days — everyone's on some platform. Facebook continues to be the primary platform users prefer to connect with others online. The user statistics for this social media platform are shocking.
On this episode, we looked at an article by Gordon Donnelly for WordStream, titled, "75 Super-Useful Facebook Statistics for 2018," with special guest Josh Kilsch. Let's seek the truth together.
Quotes From Gordon's Article
"With 1.32 billion daily active users, Facebook is the most widely used social platform by quite a bit."
"400 new users sign up for Facebook every minute."
"Users access Facebook an average of eight times per day."
"Given that each video gets approximately 3 seconds per view, Facebook generates over 3,000 years of video watch time each day."
View Gordon's full article, along with his sources, here.
Episode Highlights
Josh Kilsch joined the episode as a special guest to share a bit of his social-media journey and personal convictions. View his personal blog and social profiles here.
It's quite possible that social media can become an addiction. If we aren't careful, it can turn into something we seek identity from and become obsessed with our routine posting habits.
Some people are only reachable through Facebook!
We certainly don't have the "master plan" for social media use, but we recognize that social media is a great tool that can become a dangerous distraction. We must guard against wasting our life away online, and learn to steward social media well.
Do you think social media is primarily used today to be 'social' or used for the 'media'?

— Discern Daily (@DiscernDaily) January 26, 2019
We should spend a moment reflecting on our personal social media use so that we don't get lost in it. Thinking about how much time we spend online relates to the subject of stewardship.
"How do you know what your life will be like tomorrow? Your life is like the morning fog—it's here a little while, then it's gone" (James 4:14, NLT).
Let's Seek The Truth
What are your convictions on this subject? Check out the statistics Gordon Donnelly shares on WordStream and let us know what you think. Do you carefully watch your time on social media? There's some important, relevant information worth discussing here, and we'd love to hear what you think.