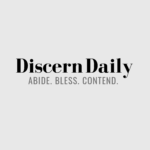 Discern Daily
Ep. 10 – Jesus' Twelve Disciples Were Probably Teenagers
Jesus launched his earthly ministry when he was thirty years old, but how old were the twelve disciples who followed him? Does the Bible say? Are there indicators from church history?
On this episode, we discussed how old the disciples might have been, while looking at an article by David Paul Kirkpatrick, titled, "Jesus' Bachelors – The Disciples Were Most Likely Under The Age of 18." Let's seek the truth together.
Top Quotes From David's Article
"Unlike the cinematic portrayals of the past and even in the latest TV miniseries, The Bible airing now, the disciples were probably not middle-aged men. Not only is it against the historical times but flies in the face of Scripture. The only one who might have been older, other than Peter, was Matthew. He had a profession as a tax collector."
"In Matthew 11:25, Luke 10:21, and John 13:33, Jesus calls his disciples little children, 'little ones'. This would be a bit insulting if they were men, no matter how radical or gentle the rabbi!"
[On James and John] "These guys were brothers. They had a pushy mom named Salome who wanted to arrange where they would sit with Jesus at the table. Salome's pushiness wouldn't make sense if the brothers were grown men (Matthew 20:20-24)."
"In Exodus 30:14-15, Jewish law states that every male over the age of 20 is to pay a half-shekel as a census offering when they visit the temple of God. In Matthew 17:24-27, Jesus instructs Peter to 'fish up' this tax. And to find a four-drachma in the mouth of the fish he catches; enough to pay the tax for two men, himself and Jesus. Jesus requests this only for Peter and for Jesus. You could conclude that the others were underage and did not need to pay."
"A youthful discipleship doesn't change the Truth of the Gospel. It simply adds a different tonality to its music."
Read David Paul Kirkpatrick's full article here.
Episode Highlights
Hoping 2019 has been a great year for everyone so far. We are making many more Discern Daily episodes this year.
A recent poll was posted on The Majesty's Men's Twitter page, asking about the age range of Jesus' twelve disciples.
"Jesus, when he began his ministry, was about thirty years of age" (Luke 3:23). About how old were Jesus' disciples during his ministry?

— The Majesty's Men (@themajestysmen) December 8, 2018 
One of the main target demographics for The Majesty's Men is younger men who aspire to glorify God. Discussing the age range of the twelve disciples involves large implications, especially for younger men.
Younger Christians should not buy into the ideology that they cannot involve themselves in the work of God yet.
Jesus invested his time and energy into younger men who changed the world for the glory of God.
Let's Seek The Truth
What are your thoughts on the matter? Are there indicators you know of that support an answer to how old Jesus' twelve disciples were during his ministry? Share your thoughts in the comments and help share this episode on your social media.