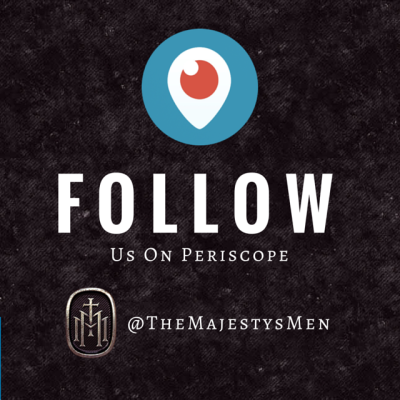 Alright… alright… after much deliberation, we're giving in… We're on Periscope now!
You know of Periscope, right? It's a little app, purchased by Twitter a while back, that's been taking the live-streaming social media world by storm.
That's right, live streaming! Yikes! Not typically what a recommended practice for most young men to try out. Ha! However, we have a plan to use it well, and we're going to give it a shot.
So Here's The Plan On How We'll Be Using Periscope For The Foreseeable Future:
We believe this app and network can fit into our overall mission as a site and community. So let's talk about how, real quick:
Periscope is completely, entirely, geared around interaction and building community! So are we! We want to continually make easy ways for young men of faith to find brothers, encourage and admonish each other, learn from each other, promote each other instead of ourselves, and stay in touch as we all develop.

This means we have to actively engage each other, and this is Periscope's bread-and-butter! In the one day we've had our account we've already engaged many new brothers (and hopefully we'll be recruiting them to come share some of their stories on the site here)! #WIN!

Periscope is for people who have something to share! We believe we do! We want to continually make an easy and trustworthy way for guys to develop their voice and share their messages, tell what they're learning and how they're developing.

However, it can't be just easy, but it has to be effective! We want to engage our societies in ways that mean something to them and ways they'll listen! Periscope is a growing platform that is new and exciting, and people are loving video in our society. This is especially ripe for our target audience!

Periscope is about "moments" and daily, short, interactions. Believe it or not, we are too in a very real sense! Obviously our faith and our lives are eternal and of eternal importance! But this is the point: every moment has eternal consequence and we want to take them captive and show how all of Christ affects all of life!

So we're not trying to make much of ourselves, we're trying to just continually make much of Christ in each moment and remind each other, and anyone else, that this is our mission in each moment. We can continually cast vision for ourselves and each other with this in practical everyday-life moments!
So the plan to use it as a community:
Let's say this bluntly: Periscope is not for everyone.
For some of us, it's just not how we're wired and skilled – thinking and speaking on the spot, reacting and engaging with multiple personalities on the fly. That's not a value thing, it's just a skill set and gifting and we each have our own.
Also, for some guys, the problem is that you actually are wired for this kind of social engagement, but you want it to bad and for the wrong reasons, and thus it makes it not for you! We gotta be sober minded and real with ourselves and with each other.
So with Periscope, we will be making our account available to trusted guys within our community who both want to share and can do it well.
"Can do it well" means a few things:
You can communicate truth clearly, compellingly, and winsomely in live speech.
You can engage with others of multiple personalities, cultures, and experiences without being condescending or insulting.
You have a both a breadth and depth to your theological knowledge and wisdom as well as how it applies to everyday life.
You have a strong sense of personal awareness as well as societal and cultural awareness.
You can continually clarify that you "do not speak for everyone in the community" especially in matters of known controversy (which is again why you need to know what those might be).
You know and love Jesus, and you obviously and always want to make much more of Jesus and your brothers and a lot less of yourself!
You can control technology well.
Lastly, We're Gonna Be Strict On Our Categories:
So the last stipulation, is we're going to tighten down a bit more than normal in how the content relates to our blog categories. Read up on them if you haven't lately.
The point with these is that as continually developing men of God, we are leaders by nature, continually setting an example in multiple roles in life as we go about loving God and loving people (a.k.a. being a disciple of Jesus Christ).
So being men of God, good leaders in all we do, takes living very active and intentional lives in these roles.
So though we're a bit broad and loose on these categories and how content fits into them on the blog, with this we're going to need to be a bit more defined in how exactly what we say applies to our roles as men of God and how it plays out in real, practical, everyday life.
Hope you join us as and chat with us! Tune in by following us on Periscope and also on Twitter so you see when we're live. We'll also be placing a little "Live" button in the sidebar here on the site that will turn red when one of the guys is on!
See you soon, and please, give us lots of "hearts"! 🙂