"The wonder of marriage is woven into the wonder of the gospel of the cross of Christ, and the message of the cross is foolishness to the natural man, and so the meaning of marriage is foolishness to the natural man" – John Piper
Marriage, just as any other season of life, needs preparation. 2 Timothy 4:2 says "… be ready in season and out of season…" So here are some ways in which you can prepare yourself for the massive life change that is marriage.
1. Commit To Discipline
If you desire to love your spouse well, disciplining yourself before you get married is a must. This is not to say that you have to be disciplined in every area of your life prior to marriage, but it's more to say and to show that you are committed to actively loving your spouse through simple, practical, and daily disciplines. There are two main disciplines that I would recommend you commit to:
1) Housekeeping
This is one area of my life that I wish I would have had on lock before getting married. Keeping your living space clean is one of the best ways you can love your spouse. Devote yourself now, before you get married, to learning to pick up after yourself, doing to dishes regularly, doing and folding laundry, making the bed, sweeping and/or vacuuming, taking out the trash, and the list goes on and on and on. On the surface, cleaning may seem like a shallow way of loving, but it's the day-to-day, mundane, constant acts of love that will remain in the mind of your spouse the longest, and have one of the biggest effects on the way they see you.
Men, you may see yourself like this: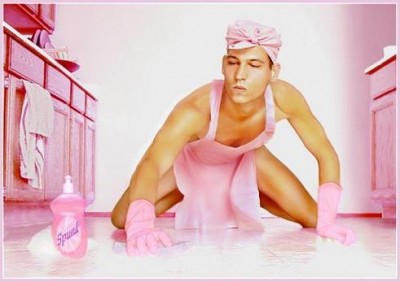 But your wife will see you like this: 
2) DAILY Pursuit Of God
You must love God more than your spouse, and having a daily, active relationship with Jesus before you get married is crucial. Because the "habits" you have built into your single life will carry into your marriage, this will aid in building daily pursuit of God with your spouse.
2. Commit To Research/Study
This can also be a discipline, but for the sake of the writing format on this post, it's its own "thing".
This is one of the best ways you can prepare for marriage and love your spouse, because you can invest time into it before your get married, and it will pay off big time later. There are many great teachers who are gifted in teaching about marriage, and if you want to prepare yourself for marriage, you should invest time into what they have to say. My two favorites are Mark Driscoll and John Piper.
The point is not the teacher, or even the teachings, but rather showing your spouse-to-be that you want to be knowledgeable and competent in the subject of marriage. Obviously many lessons in marriage must be learned through experience, but you can still learn a ton before you tie the knot. There are tons of resources, books, sermons and blogs out there for the purpose of teaching on marriage, so take some time and verse yourself in the world of marriage.
Preparing yourself for marriage is more about being equipped to love your spouse well, and less about being clean or smart.
---
Q: Do you agree these are important? Are you married? What advice would you add to this list for preparing for marriage?