"Do not love the world or the things in the world. If anyone loves the world, the love of the Father is not in him. For all that is in the world—the desires of the flesh and the desires of the eyes and pride of life—is not from the Father but is from the world. And the world is passing away along with its desires, but whoever does the will of God abides forever." – 1 John 2:15-17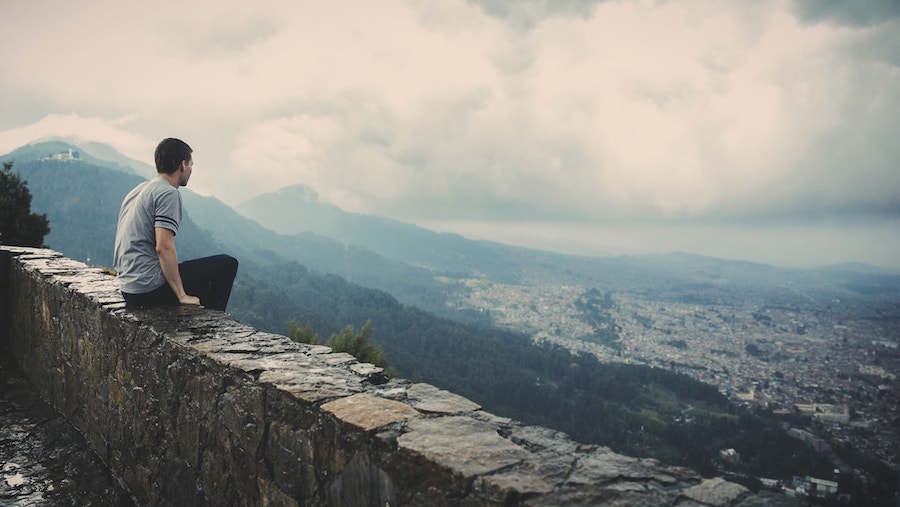 "Worldliness" is, to one degree or another, a struggle for every christian. It has a way of creeping into our lives and passing right under our noses.
Being worldly minded is the most effective way to dampen our affection for Christ and our desire to abide in the will of God.
When our minds are invested in the fleeting and empty passions of a sinful world, we create a separation from God Himself. It is this separation or distance that gives Satan his greatest opportunity to attack our thought process, sway our minds into idolatry, and encourage an idle attitude toward a defense against his lies.
There are certainly some obvious ways in which a Christian can be distracted by the world around him.
Two Obvious Yet Essential Ways We Become Vulnerable To Flirting With The World
John Calvin said,
"Assuredly, when the word of God is despised, all reverence for Him is gone. His majesty cannot be duly honored among us, nor His worship maintained in its integrity, unless we hang, as it were, upon His lips." – John Calvin
When the Word of God is not the priority in our daily lives, the world automatically is, and idolatry takes over.
We become passionate for the wrong things, and the craving we previously had for intimate communion with Christ is thwarted.
There are many excuses that we make to not persist in bible study.
The reality is that although many of us are very busy on a daily basis, we are busy with the wrong things.
If we're honest with ourselves, know that we easily could spend a healthy amount of time reading scripture each day if we simply prioritized our time differently.
I believe that when we find ourselves convicted by this reality we would do well to adhere to the command of Ephesians 5:15-16. "Look carefully then how you walk, not as unwise but as wise, making the best use of the time, because the days are evil."  
Don't be fooled. It is a serious problem to lack desire to invest our minds in the things of God, but we also need to understand that when conviction comes by way of the Spirit working within us, it is for our good! (Romans 8:28) For "the Spirit helps us in our weakness". (Romans 8:26)
It is a blessing to receive the starving and desolate feeling in our hearts when the Spirit works to show our need for the nurture from God's Word. Take action from this conviction because The Lord is faithful to restore our wayward affections.
The Word of God is the potent weapon that we are to take into the battlefield against Satan and his allies.
How can we expect to be sober minded and watchful against Satan, when we profess a faith in Christ, only to enter the trenches without the sword of the Spirit? (1 Peter 5:8; Ephesians 6:17)
Those that are devoured by the evil one are those that don't properly defend themselves.
Praise God for His relentless pursuit of our affections and His gift of unmerited grace toward our drastic shortcomings in this area!
Lack of prayer is another obvious issue.
Paul repeatedly implores us to pray.
Not once in a while, not when things go bad, but "be constant in prayer." (Romans 12:12) Be praying "in all times in the Spirit… …to that end keep alert with all perseverance" (Ephesians 6:18)
We cannot keep alert without setting our minds "on things that are above, not on things that are on earth." (Colossians 3:2)
We must always endeavor to keep in mind that prayer is something we need to persist in.
However, don't feel that if you don't have an irresistible desire to do so that God will find your prayers to be an abomination or disappointment.
Instead of choosing to put it off until you feel inspired, confess to The Lord that you literally don't possess that desire to speak to Him.
When you humble yourself enough to understand that you are truly weak you can take great comfort, for this is when The Spirit is promised to intercede for you. (Romans 8:26)
Be vulnerable. Acknowledge the struggle, that you are indeed the problem, that your affections aren't being directed where they ought, and choose to fight the good fight of the faith. (1 Timothy 6:12)
As it is with neglecting the Word, so it is the very same reason that plagues the health of our prayer life: We find the withering passions of the world to be more interesting than the Author and Perfecter of our faith. (Hebrews 12:2)
Luther made the significance of our problem clear when he said,
"To be a christian without prayer is no more possible than to be alive without breathing." – Martin Luther
A life spent persisting in prayer doesn't reflect a man who is mature in his faith because he chooses to go above and beyond what is required in order to be saved. Rather, it reflects a man who consistently understood his own weaknesses, and through faith in God's grace, ran to his Father with cries of desperation instead of attempting to find satisfaction within the emptiness of the world.
Dependency on prayer reveals a man that knows the beautiful remedy for His fragile heart.
When we are in the midst of a season where we don't want to pray, we need to understand that we are in the middle of a battle against the enemy.
Cling to the promises of God, that when we do empty our hearts on the altar of His mercy and choose to make war against the flesh, the testing of our faith will produce steadfastness. (James 1:3) Rest in the sovereign reign of our King and patiently endure these seasons while only searching for satisfaction from the steadfast love of God. (Psalm 90:14)
Let those of us who are mature think this way. (Philippians 3:15)
Avoiding the bible and prayer are commonly understood to be severe weaknesses in our fight against worldliness and rightly so. There are, however, many decisions that we make on a daily basis to drown the effect of studying scripture and praying.
3 Practical Ways Worldliness Can Infiltrate Your Daily Life
Every day we allow certain aspects of the world to not only enter our minds, but the minds of our families, friends, and coworkers. There are a seemingly endless amount of ways that we can open the door to "friendship with the world".
Over the next week, I'm going to publish three separate, bite sized looks at ways we may neglectfully and unwisely do this that pertain to our daily life, and which, if avoided, will make a significant difference and further enable us to pursue a life worthy of the gospel of the Lord Christ. (Philippians 1:27)
You'll find them on the blog, and linked here:
Brothers and sisters, worldliness is a relentless opponent, but let us be deeply comforted "that neither death nor life, nor angels nor rulers, nor things present nor things to come, nor powers, nor height nor depth, nor anything else in all creation, will be able to separate us from the love of God in Christ Jesus our Lord." (Romans 8:38-39)
I would love for you to share your thoughts in the comments below and I encourage you to follow along for the rest of this series as we continue next week with more practical ways to better engage in this battle!