Last summer after making the long trip back to the States from East Asia; I was hanging out in the grass behind the Student Union reading some Psalms. When the question hit me: "What does it mean to be a Godly man?!"
Our culture doesn't know what it means at all.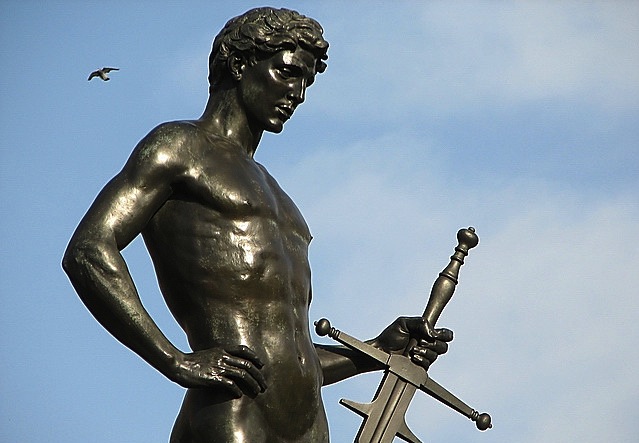 I feel like Mark Driscoll describes our culture pretty well:
"We are left with indefinite adolescence and a Peter Pan syndrome epidemic where men want to remain boys forever."
-Mark Driscoll
Honestly, how do we respond to this accusation? I know my first initial reaction is, "That's not true!", but when you stop and think about it, how many "men" have you seen that behave like children?
I'm a young college student and I hear a lot of guys, older than me, talk about staying up and playing video games all night. Don't get me wrong, I enjoy some Supersmash Bro's and would play all day if I could, but I play video games about as often as I eat fruit cake (let me tell ya, that's not very often).
What about when you overhear a group of guys talking badly about someone who might be a little "different"? I'm guilty of it too, so don't think I am judging you. I'm just making a point. We're sinful, imperfect and judgmental human beings.
Truthfully, our culture does not know what it means to be a man of God.
Even the Church struggles with this. EVERYTHING we are called to do as believers goes against what our society says a man is supposed to be and do.
In Micah 6:8, God says to "act justly, love mercy and to walk humbly with your God."
You might be thinking the first thing I was when I first read that passage, "I act the way I'm supposed to, I show people mercy when they deserve it, and I do all the things that I think would please God."
How sure are you that you understand this verse and have applied it to ALL aspects of your life?
In my following posts, I plan to examine ways that I think boys could become men in regards to the way we act. I hope to do this in a practical way that anyone can connect with by using examples from my life, and opinions, studies, and research.
I'm not one of those guys that "has it all together", I'm just a sinner saved by grace, who is sharing some personal experiences in hopes that others would benefit just as much as I have.
God is drawing us near to him in one way or another – you didn't "accidentally" come to this site. You haven't "coincidentally" been convicted (if you are at all) by some of the things you may read. There's no such thing as an accident or coincidence to God.
You arrived here because he wants to tell you something.
So please, take a second to engage in what you've found and respond!! If you're "browsing the web" stop browsing, you've found something worth spending your time on!
---
Q: What does it mean to you to be a man? What are ways you feel that "act justly, love mercy, and walk humbly" should look like in our lives?